These days, organizations face a number of challenges that seem to grow bigger every day: embracing digital technologies to assist in operations, finding ways to automate and
streamline, keeping customers happy and optimizing customer experiences, and—of course
—keeping your team happy as well.
When it comes to facility management and maintenance, it can feel like just another job on an ever-changing to-do list for business owners and branch or building managers
. One of the most important aspects of maintenance is one that requires some of the most regular and consistent attention—cleaning.
The Importance of Cleanliness in
Business
At home, cleaning may simply be a chore, that—in some cases—is optional, but it's anything but that for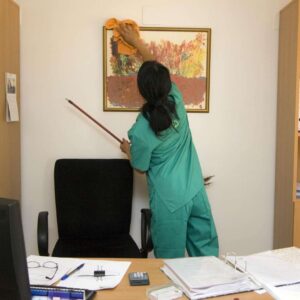 businesses and other organizations. Cleanliness is a matter of utmost importance—standing to make an impact on everything from sanitation and health matters to customer experiences and brand reputation. Truly, cleaning is an essential consideration for businesses and other organizations.
So, how do organizations successfully tackle this important challenge? One of the ways is through relying on the services of a professional nightly janitorial services team. These highly trained professionals can assist organizations in keeping their premises clean, well-organized, and safe for their partners, customers, and employees. Let's explore how a professional nightly janitorial services crew can have such a profound impact on a place of work.
Preventing the Spread of Pathogens
As the world emerges from a devastating global viral pandemic, it's become abundantly clear that cleanliness isn't always simply a matter of aesthetics. Rather, when we work and habitat in relatively small spaces together regularly, it can become increasingly important to remain mindful of the possible spread of bacteria, fungi, and viruses that can wreak havoc on our bodies and lead to outbreaks.
One of the ways professional nightly janitorial services can assist organizations is in providing a layer of mitigation to the risk of pathogens in a physical workplace. In performing janitorial services such as cleaning high-traffic surfaces, removing waste, disinfecting areas such as bathrooms, restocking hygiene supplies such as soap and paper towels, sweeping, mopping, and even cleaning walls when needed, these teams of highly skilled professionals can work to make a workplace that's safer for everyone involved.
Providing a Clean Workplace
While cleanliness, aside from the health considerations, may seem like an unimportant consideration simply in terms of aesthetics, being in a clean environment can have a huge impact on the mental health of workers. In fact, studies have demonstrated not only a link between productivity and a clean work environment, but also between clutter and poorer performance on tasks.
That's where a nightly professional janitorial services team can come in. By providing the workplace with a much-needed reset each night, cleaning high traffic surfaces and areas, cleaning floors, restocking supplies, taking out waste, and much more, these teams of highly-trained professionals provide what can be an invaluable service, ensuring that the team has a clean, functional workspace to come in to each morning. While a nightly janitorial services crew will largely work out of the periphery of the members of the team, they'll nonetheless be providing a service that benefits everyone involved.
Providing Customers, Partners, and Visitors a Clean Experience
The importance of cleanliness goes beyond preventing the spread of pathogens and providing a clean workspace for your employees. It's also a part of your brand's appearance and can affect a brand's reputation considerably. Clean spaces for customers and visitors can be an important part of their perception of a brand.

Nightly janitorial services crews can assist organizations in providing customers and partners with that positive experience by ensuring that facilities are kept clean and that each morning, the building is refreshed for the day's visitors, whether they might be guests, partners, customers, or anyone else.
Taking The Pressure Off
Building managers have a lot of tasks on their plates. One of those is ensuring that facilities remain clean consistently. One of the ways nightly janitorial services teams can assist organizations is in taking some of the pressure off of staff. In coming in each night and ensuring that the building is clean for the next day, nightly janitorial services teams can help take some of the pressure off of staff responsible for cleaning during the day.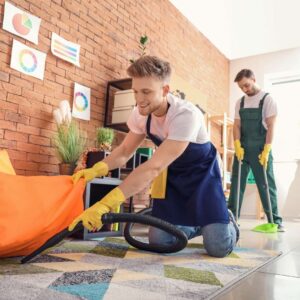 Cost Effective Solution
Enlisting the aid of a nightly janitorial services team can also be a highly cost-effective solution. Building managers are tasked with ensuring that the building is functional in a number of ways—one of the most important being that it is a sanitary and clean work environment in which teams can be productive and motivated to take on each day.
While hiring on and training additional cleaning staff can be not only time-consuming, but a costly challenge, outsourcing to teams that are already well-trained and ready to tackle cleaning challenges is often a cost-effective solution that results in an effective and clean workspace.
The Bottom Line
The truth is, nightly janitorial services crews can be an invaluable asset to organizations of all kinds and sizes. Keeping a building clean may seem easy to overlook, but is almost always a crucial consideration for businesses and other organizations that keep and operate out of physical premises. Cleanliness can have a huge impact on a business—potentially affecting everything from the spread of pathogens and sanitation all the way to aesthetic appeal, worker productivity, and even brand reputation.
That's why it's so important for organizations to consider the ways they can take steps to ensure that they maintain a clean, sanitary work environment clear of waste and clutter, from which workers can operate each day and tackle important challenges.
That's where professional nightly janitorial services crews come in. These highly trained professionals can help organizations take on each new day with a clean environment. In addition to working to help ensure that workspaces are functional and conducive to productivity and positive customer experiences,  these professionals also play a crucial role in mitigating and preventing the spread of dangerous pathogens and diseases.
To learn more and to schedule a free consultation, be sure to reach out online. At American Facility Care, we provide services including nightly janitorial services, office cleaning, and commercial carpet cleaning. For a free consultation, get in touch today!