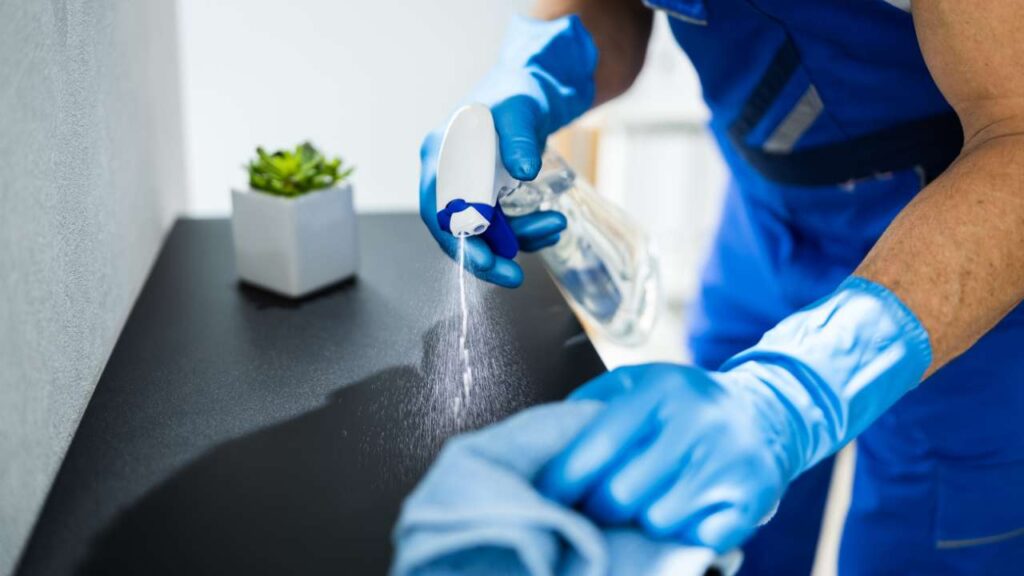 For businesses and other organizations of all sizes, one of the most important day-to-day considerations can also be pretty easy to overlook: cleanliness. Maintaining a clean premises is of utmost importance, whether for a business or a nonprofit organization, or any entity that sees visitors, partners, and employees. There are a number of reasons why clean premises are so important. Among these, some of the most important and noteworthy include: mitigating the risk of disease and outbreaks by maintaining sanitary spaces that are not conducive to the spread of pathogens, keeping spaces clean in order to foster motivation and productivity among employees, and keeping space clean in order to drive positive experiences in guests, partners, customers, and anyone else who visits your building.
With so much at stake, and with so many other tasks that businesses are charged with completing each day, it's no wonder that organizations often rely on the professional services of professional office cleaning teams. These highly trained professionals can make it look easy—coming in and maintaining a spotless work environment from which employees can be at their best each day. But, how do they do it? How does the office cleaning process work, and how is it so effective at creating a pristine work environment each day? Let's explore.
Cleaning Analysis
Many people don't realize this, but cleaning services are anything but simple. In fact, many cleaning companies take a highly analytic and even scientific approach to everything they do. At American Facility Care, our process begins with analysis. There are a few reasons for this: firstly, this helps us determine exactly what we need to get the job done right. Second, this process enables us to determine, based on metrics specific to you such as your flooring type and square footage, how long service should be expected to take, and helps us ensure that you don't overpay for cleaning services.
Careful inspection
Another important factor in our success in providing impeccable service? Inspections. We take a systematic approach to quality assurance, rather than leaving anything to chance. We utilize a highly specialized proprietary software that we've integrated with a worker mobile app. Our cleaners use this app in order to foster accountability and responsiveness. The communication that we're able to foster using our in-house software enables us to keep in regular contact with our cleaners, take a detailed approach to operations, and provide you with regular inspection reports. When it comes to taking steps to ensure that we're getting the job done well, we don't take chances.
Oriented to Details
For many businesses, details might be just that—details. To us, nothing is a detail, because everything we do is in the details. Our attention to detail is why our customers can rely on us to provide sanitary and aesthetically pleasing work environments each day. When it comes to our success, a careful attention to details is everything.
The Cleaning Process
So, what exactly does our office cleaning process entail? We've explored the principles behind our approach, the ways we stand out, and why attention to detail, careful inspection, and analysis are keys to our success. But what about the cleaning process itself? Let's explore. Here are the steps we take in an office cleaning service:
Dusting: We dust off surfaces regularly, which in addition to enhancing appearances can help improve air quality over time.
Cleaning of glass surfaces: Not only is glass everywhere—windows, mirrors, countertops, tables, you name it—but it's notoriously difficult to clean well, without leaving a sheen or streaks. We take the pressure off, making sure they're clean each visit. While it may seem subtle, the impact of clean glass on the aesthetics of a space can be huge.
Cleaning floors: whether carpet, or hard floor, we're here to clean it, mopping, vacuuming, and sweeping as needed.
Disinfecting high-touch surfaces: High touch surfaces being exactly what they sound like—surfaces which are touched frequently—they can be a hotbed of pathogen activity. That's why we disinfect high-touch surfaces to keep everyone safer.
Waste removal: Many of us don't give it a second thought, but an incredible amount of waste can be created each day in a work environment. That's why one of our most important tasks is simply removing trash and recycling and replacing trash bags.
Cleaning and disinfecting shared spaces: No matter what kind of business, chances are, there are some charred spaces. Whether these are reception areas, meeting rooms, or conference rooms, it can be important to ensure that they're cleaned and disinfected to mitigate the spread of disease.
Cleaning of electronics: Electronics can be finicky to clean, but we work to ensure that electronics such as computer screens and keyboards are regularly dusted to avoid buildup.
Deep cleaning: occasionally, businesses need deep cleaning services—such as floor waxing or carpet cleaning. We're here to provide these kinds of services as well.
Restocking supplies: When it comes to cleanliness, and frankly disease control, one of the ways cleaning crews further support sanitation efforts is in restocking supplies such as soap and paper towels, encouraging workers to practice hygienic behavior like regular handwashing.
The Bottom Line
The truth is—cleaning crews do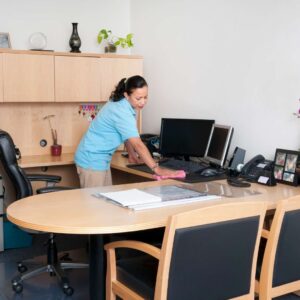 a whole lot! Clean work environments are highly important—not only because they're conducive to positive mental health and a happy work environment, but also because a clean work environment is generally less conducive to the spread of dangerous pathogens, and a clean premises can send a better message to customers and partners than an unkempt premises might. In fact, there's no shortage of reasons why cleaning is so important in business.
That's where office cleaning services come in—though exactly how they operate can sometimes be a bit mysterious. That's why we've explored the office cleaning process in an attempt to demystify and inform.
At the end of the day, there's a lot that goes into what these professionals do. In addition to performing tasks such as vacuuming and removing waste, they're often hard at work disinfecting commonly shared spaces and surfaces, making sure our electronics stay dust-free and much, much more. A clearer understanding of what office cleaning crews do each day paints us a stark picture of professionals who do an incredible job of keeping us happy, safe, and productive.
To learn more or schedule a free consultation, be sure to get in touch today. At American Facility Care, we offer services including nightly janitorial services, office cleaning services, and commercial carpet cleaning. Visit us online for a free consult.