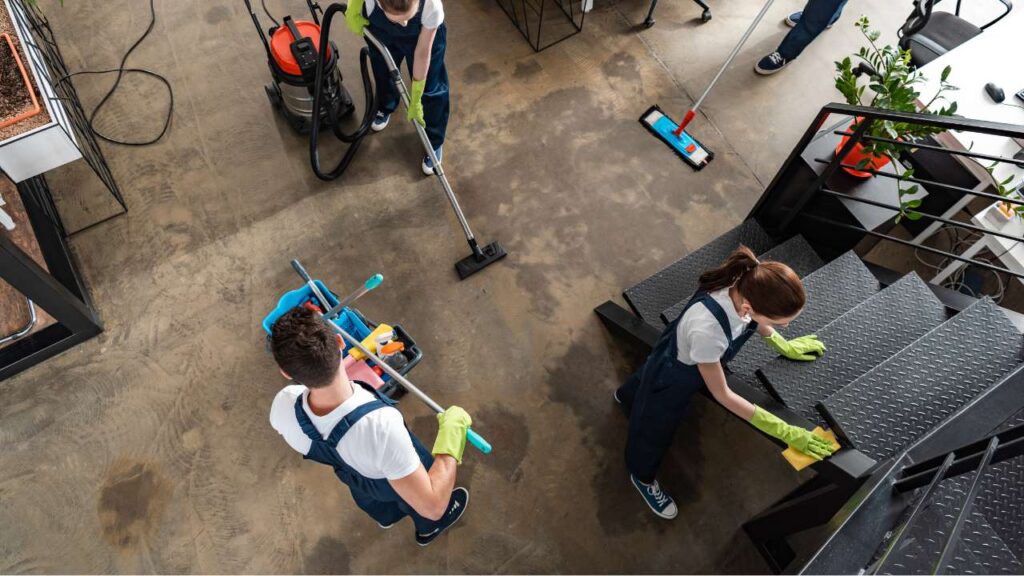 With all those phone calls, paperwork, emails, and everything else that piles up in the office, office cleaning may not be at the top of your mind right now. Every office, however, needs to be cleaned regularly for the benefit of both management and employees. The question is: how do you choose the right office cleaning company for the job? You want to be able to be on a regular cleaning schedule, so you'll want the same company every time, but how do you know which one to choose?
This article will help you answer that question. There are several vital factors to consider before hiring a professional office cleaning company, and we'll show you what those are so you can make an informed decision. Let's begin.
The Importance of Office Cleaning
Firstly, office cleaning is a crucial part of owning or managing a business of every size, shape, and industry. It is a known fact that clean spaces lead to increased productivity, reduced stress, and improved morale.
We all know that feeling of seeing dust on the shelves and waste paper baskets filled to the brim–it doesn't make for an enjoyable place to work in. A clean office, however, shows you care about your employees and customers, keeps people safe from germs and pollutants, and leads to a happier overall business day.
Choosing a Professional Office Cleaning Company
So, a spotless office is important not just for appearances but for the overall human and monetary health of a business.
Cleaning an office is about more than just taking a duster to a shelf now and then. It, like other tasks in your business, requires industry experts and those who are both trained and experienced in cleaning office spaces.
This is why it is crucial to find and hire a professional office cleaning company to handle the task of regularly cleaning the office. Not all companies are equal, and not all are suited for your business, so you must choose the right one for you. Doing so requires looking into a few essential factors. The first is location.
Location
One of the most important factors when choosing a cleaning company is their location. You will want to find a company that is located near your office. This is important for more than just the convenience of minimal travel and regular scheduling.
If the cleaning company is located in the same area as your business, they will have a clearer understanding of the local labor market, meaning they will be more likely to know the average labor rates of the area, give you a competitive price, and pay their employees a good wage. Employees that are paid well tend to do a better, more thorough job and will likely stick with the company for longer.
All this translates to a well-managed cleaning company that will benefit your business.
Specific Services
Next, you'll want to look at the specific services offered by a particular company. Choosing the right office cleaning company for your business will depend on the needs of your office. Do you need a window to be cleaned? Or do you want nightly janitorial services? How about carpet cleaning?
Make sure the company you are looking at offers the particular services you need. It's best to find one company that can handle all of the services you need, not just a part of them.
References and Reviews
At this step in your search, if you find a company near your office that offers the services you need, it is wise to look for references and reviews. Do some online research to find reviews of the cleaning company, and especially look for reviews from businesses you know or that are in your same industry.
Before hiring a company, be sure to ask for references. Once you've received them, give each business a call and ask them what they thought of having that cleaning team work for them.
Insurance
When it comes to factors to consider before hiring a cleaning company for your office, one of the utterly essential pieces of information to have is whether or not the company possesses liability insurance.
This insurance will protect both them and you if a cleaning employee accidentally damages or loses an item while cleaning. Plus, liability insurance often includes bodily injury, so if a cleaning professional is hurt on the job, your business won't be held liable.
Training and Chemicals
Another factor to take into account is how the cleaning company's employees are trained and what chemicals or products they use. Ensure the employees are trained to do their job correctly, thoroughly, and consistently. You should also ask about the cleaning process. Do they follow a strict cleaning regimen every time? If they are pros, they will give you a list that outlines every task their cleaners are required to do.
Also, it's a good idea to verify the kinds of chemicals the company uses. Ask whether they use eco-friendly and safe cleaning products.
Scheduling
Your office runs on a schedule, and this means that you need to ensure your cleaning company can work with that schedule. If you want nightly janitorial services or weekend cleanings, make sure the cleaning team can provide that consistently.
Also, ask about how they handle rescheduling. Sometimes you may need the office for a night meeting, or you might want it cleaned on a particular day. The right company should make rescheduling the cleaning visit straightforward.
Pricing
Last but certainly not least is pricing. Obviously, you want to make sure the cleaning company is charging a fair price for their services. The easiest way to do this is to ask around for multiple quotes.
See what other cleaning companies charge and compare that with the company you are considering hiring. If it is ridiculously expensive, they are likely overcharging you. If it is far cheaper than others, ask yourself why and how they can charge such a low price. Most likely, they are cutting corners.
The best bet is to stick with an average price–you'll get what you pay for but won't go bankrupt in the process.
By considering these factors before choosing an office cleaning company, you can be sure you are choosing the right one for your business.
Office Cleaning for Central Indiana Businesses
If you have an office in central Indiana and you're looking for the right office cleaning company for your business, check out American Facility Care. We are a family-owned professional cleaning company with over 45 years of combined experience in the industry. Contact us today for a free consultation, and find out how we can make your office spotless.